Department Activities
Fire Danger will continue to increase as we finish out the Summer. There are a number of things you can do to help protect your property in the event of a fast moving wild fire. Keep a good perimeter around your house, your barns or garages. Keep grass mowed and remove any stacked materials away from buildings. When the wind is blowing, look around your house and buildings to see where wind currents deposit blowing materials. The wind will also blow fire embers and burning materials in the same places. Do not leave light weight and flammable chairs and cushions out on your deck when they are not in use. Most houses destroyed in wildland fires are due to small things catching fire and then spreading that fire up walls of buildings and across wooden decks.
WE LOVE YOU GUNNY!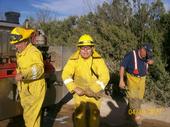 Howard County Volunteer Fire Department
Dont forget to thank each firefighter for their dedication to the citizens of Howard County. Every member is 100% volunteer in the department, and will respond to any call Day or Night.
Fire Service at its Best!
Stay Safe Out There!